Handcrafted Wood Kits
SparkJump is a family-owned small business based in Austin, Texas. Our high-quality woodworking products inspire kids and adults of all ages to build amazing things together. Our woodworking kits are sourced responsibly and made from top quality lumber.
Build Memories Together
Get them away from screens! This is an activity you can do together as a family and a chance for real conversations, laughs, and memories that can last a lifetime.
The Perfect Gift for Kids

Whether it´s a birthday or Christmas gift, a project for your maker space or Montessori classroom, or simply as something fun to do on a lazy Sunday you will love making this with your kids, grandkids, or students.
Foster Practical Life Skills
Reinforce your children's fundamental engineering skills and fine-tune their motor skills. Inculcate life skills in children of all ages through STEAM education.
DESIGNED WITH LOVE IN THE USA
SparkJumpis a small, family owned business based right here in the USA. We design all our products to inspire kids and adults of all ages to build amazing things together.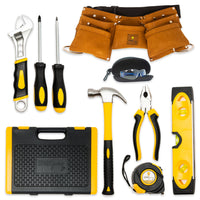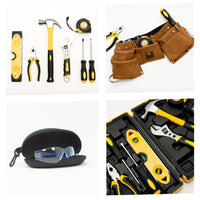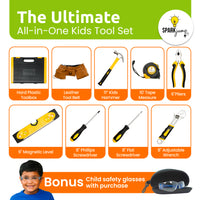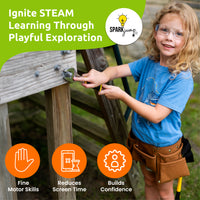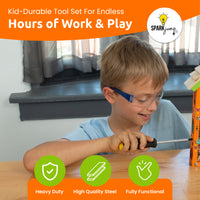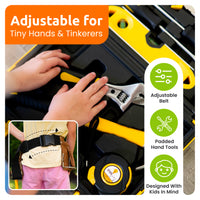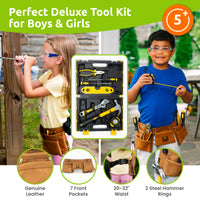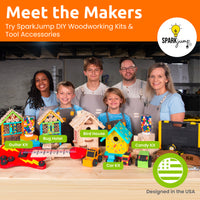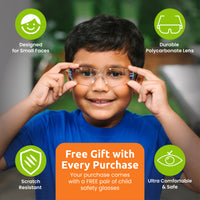 REAL STEEL TOOLS: Made from high-quality steel and finished in chrome to ensure durability and strength, these tools for kids are built to last. Kit includes an 11" claw hammer, 10' tape measure, 6" pliers, 8" Phillips screwdriver, 8" flat screwdriver, 8" adjustable wrench, 9" magnetic level, safety glasses, hard plastic tool box, and real leather tool belt. Why settle for a plastic toy when you can get them real metal tools!

DURABLE PLASTIC TOOL BOX WITH HANDLE: The 12-inch heavy duty plastic tool box is water resistant and designed to withstand the load of your tools and more. The tool box features 2 lockable clips that securely keeps your tools safe. This tool box features 7 molded tool shaped enclosures that snuggly fit each tool.

REAL LEATHER TOOL BELT FOR KIDS: Adjustable kid tool belt that can fit your beginner builder. Designed from real leather for the most active kids that won't break or tear like other fabrics. 7 front pockets and 2 steel hammer rings. Perfect for kids ages 5 years old and up under adult supervision.